The PCH
Friday, July 9, 2004.
It is 4:45 a.m. I have been awake for almost an hour. I am dressed and ready - I think.
All bags have been packed, loaded and strapped on with my multi-colored bungie cords. I double check my camera case to make certain it isn't going anywhere. It isn't.
The neighborhood is dark and quiet as the sun slumbers still but it remains inordinately warm. It is July in Arizona. You can't expect it to drop much below 90 degrees at any time including what should be the coolest part of the morning. The scene from a distance belies the underlying unrest and the related potential energy of the impending journey. An EKG would reveal a more accurate depiction of the mood. I am nervous. I am full of anticipation. I am covered in leather and it is 88 degrees. The "boys" are quite damp.
Rules of the road have been established and there are but two:
Rule #1 - No eating at chain restaurants; we get as much local flavor as possible.
Rule #2 - We stop when we feel like it (and the corollary - we go when we feel like it).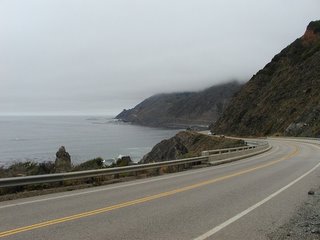 I tie a black, Jack Daniels bandana across my forehead and tuck the top corner under the knot in the back. The helmet slides on over the bandana. The earbuds of my mp3 player are popped into place, the helmet positioned and strapped.
I do not know where I will be sleeping tonight; I turn the key and press the starter button and FLMNG1 rumbles to life.
The throaty sound of our motorcycles fades from the sleepy little residential neighborhood as we put distance between the doers and the dreamers. We head west without glancing at a map. Our route consists of only two paths - Interstate 10 to the coast and then a right turn onto Highway 1, the Pacific Coast Highway.
We will stop when we feel like it.